ZALVE® wound healing cream is a brand new non-prescription product that promotes wound healing in various types of minor sores, while offering antibacterial activity. The combination of wound-healing and antibacterial effects in a cream is new and in demand on the market. The cream helps to heal cuts, scrapes, and scratches. It also heals sores from burns, blisters, insect bites and acne. ZALVE® is designed and manufactured in Sweden and contains no parabens or other preservatives. ZALVE® wound-healing cream forms a thin film that regulates the moisture content of the wound while preventing bacterial growth. 
ZALVE® promotes the proliferation phase which involves closing the sore, resulting in an overall faster wound-healing. When the skin bleeds, becomes ulcerated, or a blister is being drained, there is always a risk for infection. Signs of infection include redness and swelling around the sore, tender skin, and delayed healing (does not start to heal within a couple of days). ZALVE® has an antibacterial effect on the skin and normalizes the microbial environment, reducing the risk of infection and it can also be used on already infected wounds. Wound healing is a complex process involving several different physiological stages. The three main wound-healing phases include the inflammatory phase, proliferation phase and maturation (re-modelling) phase.
How to use ZALVE®
When necessary, clean the wound with soap and water. Apply ZALVE® on the wound twice daily or more often if needed to keep the sore covered. ZALVE® can easily be rinsed off with water. ZALVE® can be used in combination with an adhesive bandage. The treatment should not last more than 2-3 weeks. If the wound has not healed within this time seek medical attention. Always read the package insert before use.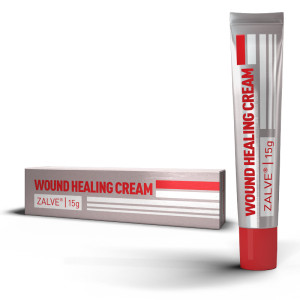 Warning and precautions
– For external use only
– Avoid contact with eyes
Shelf-life and storage
Use by the date indicated on the tube and carton. Store between 5 and 25 °C. Keep out of the reach of children.
Site updated 2023-10-01